Custom made by ReSound – Whatever you think about custom hearing aids, think again.
With the most advanced hearing technology powered by ReSound, comes carefully crafted in a rechargeable earbud design, custom made by you and ReSound. This new hearing aid combine the experience in true wireless earbuds from Jabra. It is the real deal that motivates people to move from earbuds to hearing aids and help patients earlier in their hearing loss journey.
Think custom hearing aids can't offer a natural sound experience? Think again.
Hearing speech in noise. 15-30% better speech understanding in noise depending on the hearing loss.
Better localization. Compared to conventional hearing aids, in-ear microphones take advantage of the pinna effect and the ear's own acoustics to adapt organically to each patient's needs and surroundings.
Focus on conversations. Ultra-Focus (available in premium technology level only) provides up to 30% better speech understanding.
Listening in noisy situations. When you want to focus on something through lots of noise, you can adjust the sound via iPhone, iPad or Android smartphone using the ReSound Smart 3D app.
The world's first customized charger
The portable custom charger has specially created inserts that match your patient's custom hearing aids to ensure intuitive and efficient inductive charging.
One charge for up to 24 hours of power.


 Naturally connect you to the world

Take calls and listen to music. Hearing aid users can stream on demand from iPhone and iPad or Android smartphones directly to their ears.
Hands-free calls for iPhone and iPad*. Patients simply tap the button on their custom hearing aids to answer calls.

* Customs by ReSound hands-free calls are compatible with iPhone 11 or later, iPad Pro 12.9-inch (5th generation), iPad Pro 11-inch (3rd generation), iPad Air (4th generation), and iPad mini (6th generation), with software updates iOS 15.3 and iPadOS 15.3 or later.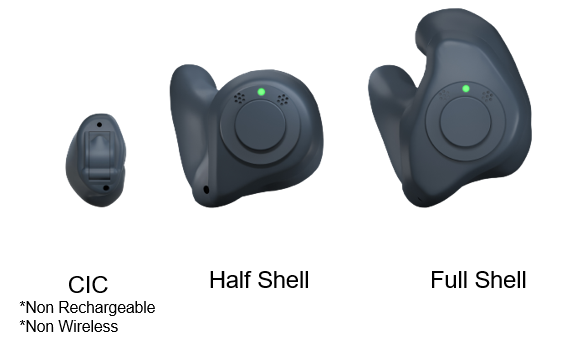 Who said that great hearing couldn't look and feel this good?
✅ Half shell/In-the-Canal (ITC) or Full shell
✅ New In-style™ anthracite color
✅ Matching Blend-in™ hair and skin tones
✅ All-day comfort
✅ Weatherproof and sweatproof
✅ One push button control
✅ All Access Directionality
✅ Ultra-Focus
✅ Personalization and remote care
Interested in our new custom hearing aids? Fill up the form below and we will be in contact with you shortly.
1390 Total Views
2 Views Today